How I Help
Sales Business Plans (SBP): Designing & Implementing Your Annual SBP for Daily ROI!! Your Annual SBP for Daily ROI!! [ARTICLE]
Sales Business Plans (SBP): Designing & Implementing Your Annual SBP for Daily ROI!!
Amazing how we actually plan to succeed at the little things in life and we fail to plan to succeed for the big things in life. Consider how you plan and achieve:
Do you use a grocery list when you go to the grocery store?
For the Holidays, if you are shopping for several people do you have a plan, a check-list, items saved in your electronic devices?
If you go on a major vacation, would you do research, get options and pricing, and look at the data before making your final decisions?
If you were moving, would you research your options, the communities, the living spaces and calibrate that with your finances and your short or long-term needs? Would you have anything written down?
For most people the response to these types of questions is a resounding yes to data written down and data considered, so that the right decisions and actions can be made for the best ROI!
As sales professionals, it amazes me that year after year I find that the disproportionate number of sales professionals have no executable selling plan and wonder why they seldom exceed their selling goals and in some cases, do not even make their sales goals.
So, if you were asked right now to go to your computer and hit print on your Annual Sales Plan (SBP), what would you be able to produce? My experience over several daces and from the Fortune 500 to solo entrepreneur, most often the answer would be - nothing or nothing meaningful, absent of measurable KPIs!
There are a lot of analytics that can be involved in designing and implementing your SBP and your unique market challenges and deliverables will dictate the nuances necessary for a sound SBP, so what I want to brainstorm here is a universal approach to get you and your sales management mindset calibrated for success.
Start by getting in writing from your organization, exactly what their minimum expectations are of you as the sales representative (regardless of your working title) to the organization. Consider this data against what the historical data reveals for past occupants to your position, if there any analytics. Then benchmark this annual accomplishment off of the current #1 selling professional for immediate selling year. This data can be used as reference off of the following SBP work product; as you may find that the best-selling member to your organization has actually been under-performing!
In designing your Annual Sales Business Plan (SBP) consider the following template as a flow, put your cursor at the end of each section prompt and if relevant start answering; if you can legitimately answer in a sentence perfect and if it takes 30-pages, that is also perfect. As you work this this SBP template you will begin to see for your industry and market what sections are missing, add them and if provided sections are not relevant, then delete them. The data that this exercise produces will become the selling market intelligence that will guide you in your annual, quarterly, monthly and weekly action plans. This will allow you to budget time, resources, manpower, finances, etc. accordingly throughout your year so as to win every day or every month throughout the entire year.
Here is a template SBP for one of my clients, the ARMY National Guard and the sales Recruiters in the field in each State; I have these for all of our clients from professional services industry to manufacturing to finance to distribution firms.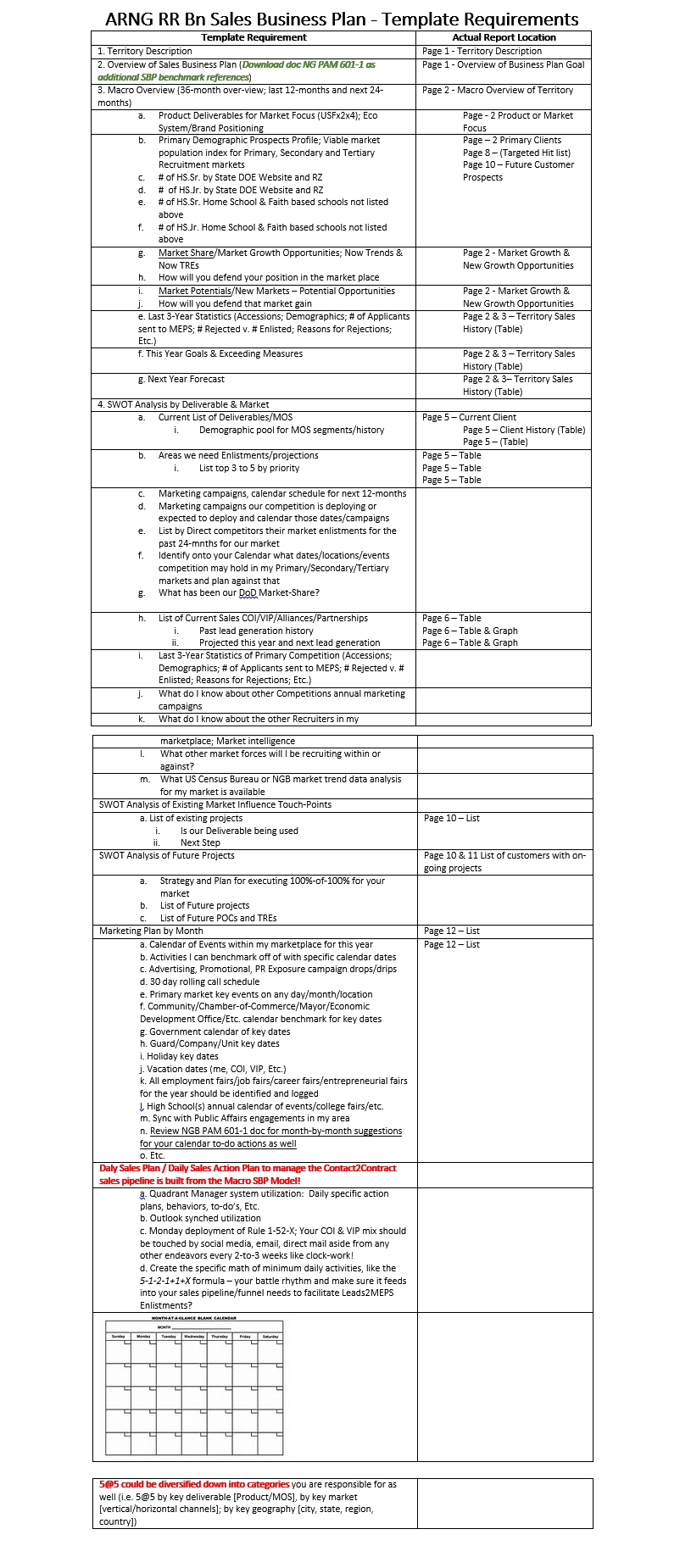 To further accelerate your strategic selling abilities consider getting copies of SBPs from your:
Your organization archives (has anyone ever had or used one?)
Trade Associations
Professional selling journals, magazines, periodicals, bloggers
Go on-line to search engine platforms (google searches) and search for down loads
Inquire with colleagues into their professional selling capacities, if they have one or of their organization has one, get copies for thought patterns that can be replicated
6. Do you have competition and if so do they have strategic selling plans or annual SBPs and can you get a copy or strategize what they may have on it and how the KPIs are built off of their game plans
A great SBP should allow you to benchmark your daily, weekly and monthly activities of it for accountability. Quarterly check-ups with your SBP and measured against your results to date, is a great self-accountability endeavor. All consistent winning organizations actually plan to succeed at the little things and the big things. Their SBP drives their daily KPIs to ensure that the trajectory one is on, is always a winning game plan in the end.
"If you are looking to master the sales process to propel your career or your company forward, We have several great programs for you!"
Program Options For
Sales Mastery
More Ways Jeff Can Help