How I Help
Online Learning Programs
Our Online Learning Programs
Jeff Magee offers amazing online learning programs for both personal and professional development.
personal professional development
The Trajectory Code

15 Lessons
---
Our Personal Professional Development Package is your solution to exceeding your expectations, goals and life balance needs. Learn how to Change Your Decisions, Actions, and Directions, to become Part of the Top 1% High Achievers.
---
Immediate strategies and tactics to personal success
Understand how everything that you do impacts your trajectory code
build an acceleration plan to achieve your greatness
---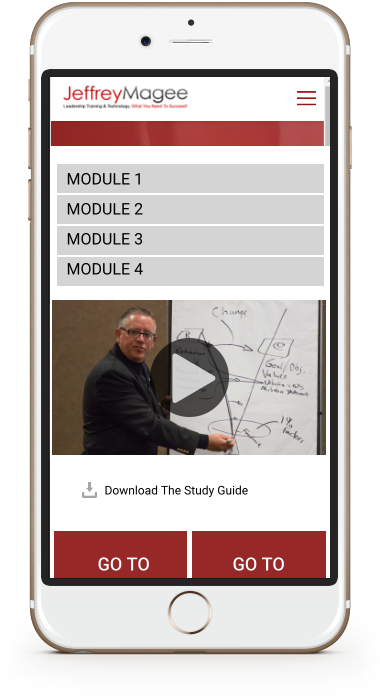 5-star rated program
sales mastery
program
Performance-Driven Selling

13 Lessons
---
Jeff explores the sales mastery techniques in his best-selling book "It". His fast-paced, high-energy style will have you laughing as you begin to shift the way you think about the sales process. Bring Jeff's PERFORMANCE DRIVEN SELLING/Sales Mastery Series into your organization as a live program.
---
Virtual learning and coaching for professional development
Accelerate your success NOW, because you need RESULTS Now
Gain a cutting-edge skill over your competition for client added value
---
our signature product
the leadership academy of excellence
Leadership & Corporate Training
For Companies Looking to Develop Their Top Level and

Rising Executives
Talent management lifecycle uncovered and applied to your unique needs
Designed from decades of best practice ROI with Fortune 100 C-Suite
Designed from real needs and multiple best-practice graduate-level texts
our premier leadership development program
Live Seminar and One-on-One Instruction at Your Location

learn more
"Self-Improvement and growth doesn't happen by accident. It is intentional. It is a choice."
What choices are you making?