Our Videos
Get to know Jeff better through a selection of his recent videos.
Performance Driven Selling - Business Training Seminar by Jeff Magee
High performance in the sales arena is a matter of strategy and discipline. Top sales people are those who have disciplined themselves to do what others aren't willing to do, or don't know how to do. In this high-powered, fast-paced program you'll get a blueprint for success that is certain to take your sales results to the next level.
---
The Thought Leader Summit / 12-Minute Power Tune-Up
Business Entrepreneur Conference - Opening Keynote
Serving the National GUARD
MD GUARD State NCO Leadership Conference
---
PERFORMANCE MAGAZINE
LIVE
TV Personalities of Greatness Show
With Dr. Jeffrey Magee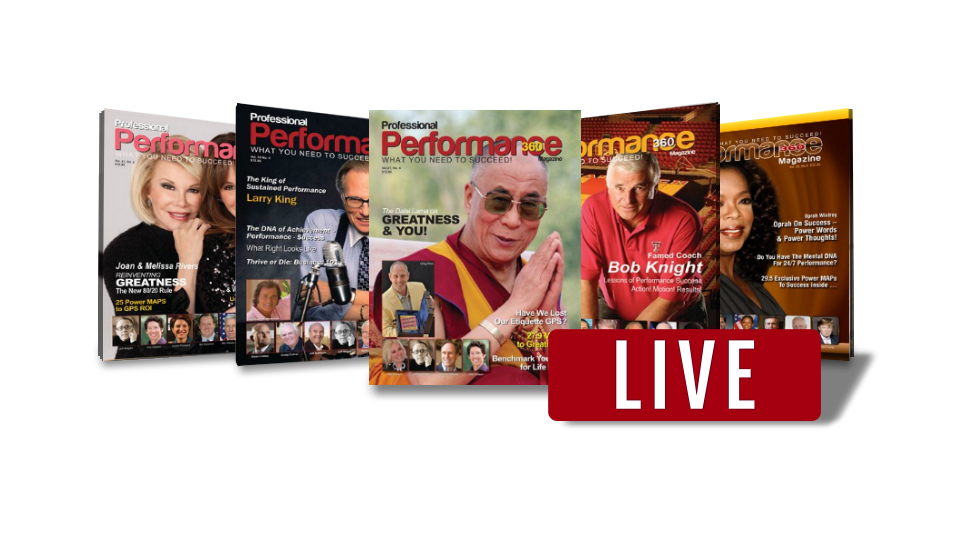 Mrs. Kathy Taylor-Loebeck, Esq./Oklahoma State Secretary of Commerce & former Mayor of Tulsa Oklahoma; Key Stakeholder & Owner in National-Alamo Rental Car Company
Mr. Bill Bartmann, Esq./CEO of CFS & CFS II
Mr. Jim Stovall/Founder of Narrative Television Network, EMMY Award Winner & Best Selling Author, Movie Producer
Mrs. Colleen J. Payne/Medical Business Entrepreneur & COE
Mr. Henry Primeaux/Car Dealership Extraordinaire
Dr. Jay Kent-Ferraro/Master Coach
Mr. Ed Bogle/Big 8 Accounting Master Consultant
Cindy Morrison/ABC News EMMY Award Winner
Strip Live Interview with Dr. Jeffrey Magee